Warming Temps & The Warming Hut
Back
Posted on March 5 by seesawadmin
March 2019
March is here and with it warming temperatures, longer days, and the chirps of chickadees. As spring approaches, these last glorious weeks of winter are to be cherished and savored. These are the days of soft snow and sunshine–when it's hard to peel the kids off the mountain at 4pm. In Vermont, maple sugar season is one of our biggest indicators of the changing seasons. These warm days and cool nights get the tree sap flowing as sugar houses all over the state rush to collect as much sap as possible before it's gone for another year. When you dream of all things Vermont, it's hard not to think of maple syrup. As we began our reimagining of Seesaw's, the possibilities were close to endless. There were so many things that we wanted to do on the property and create for families and friends to enjoy. There's still much more to come, but one of our recent additions is a passion project that just couldn't wait…and it has come just in time.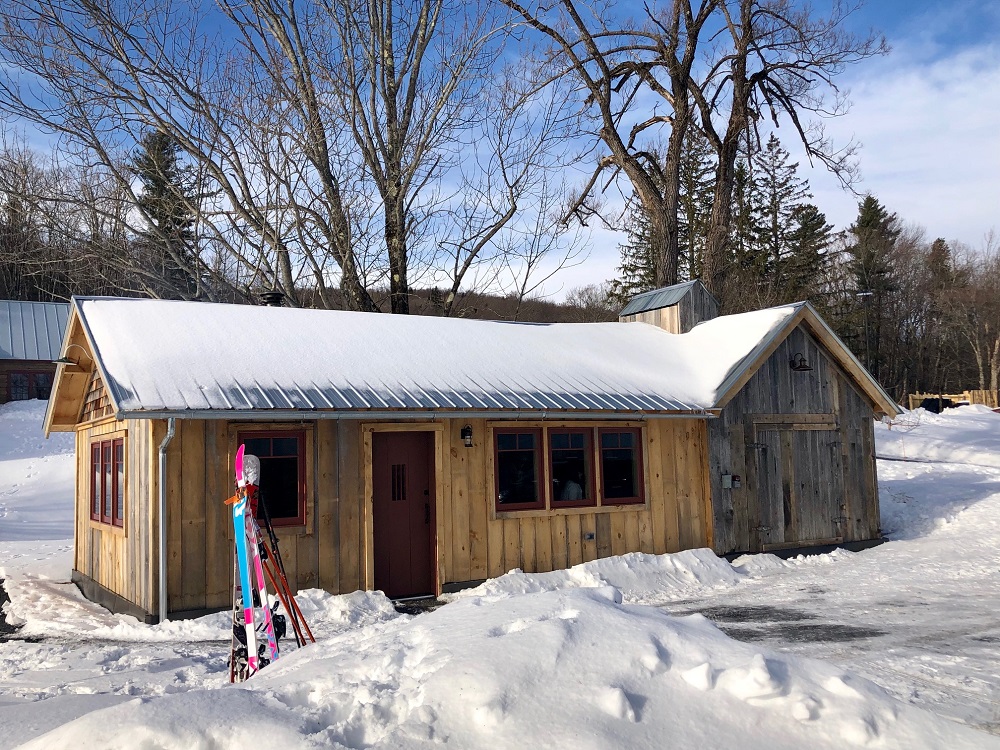 When you arrive at Seesaw's in front of the restaurant and next to the pond, you can't miss the new Warming Hut, a quintessential Vermont structure. This historic, authentic sugar shack has been carefully and lovingly moved to Seesaw's from its former home on a Christmas tree farm in Weston. Decades ago, sap was collected and boiled into syrup right in this structure. Now, we've transformed it into a gathering place for all of you.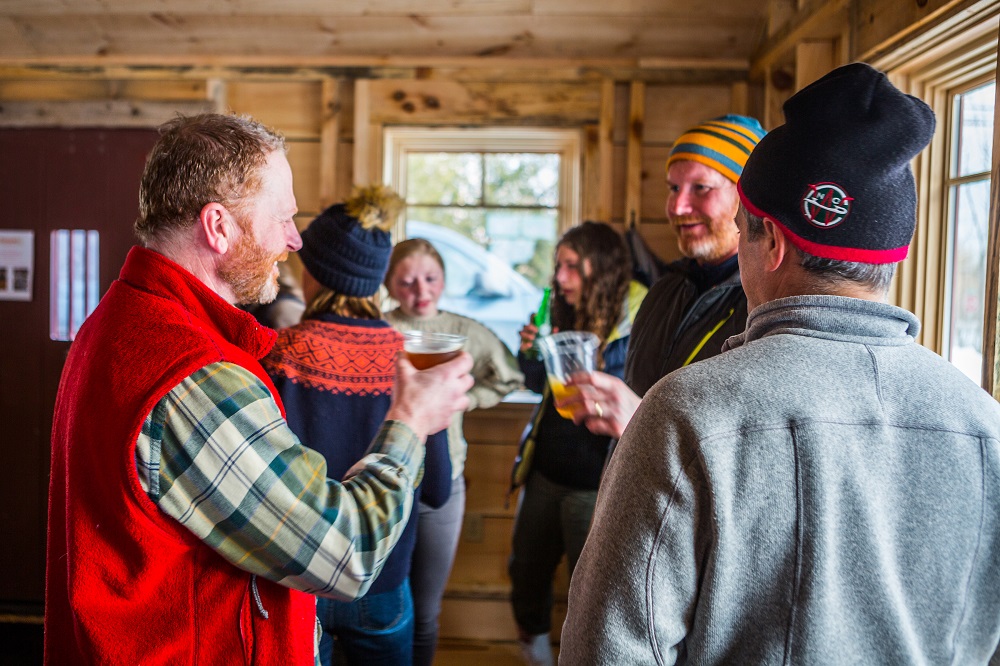 In refurbishing it, we used the original structure of the sugar shack and pulled in some additional wood from around the property. With the addition of a wood stove which came from the original Seesaw's, we've made this a cozy spot that we're inviting friends to in order to get together, eat, drink, and be merry.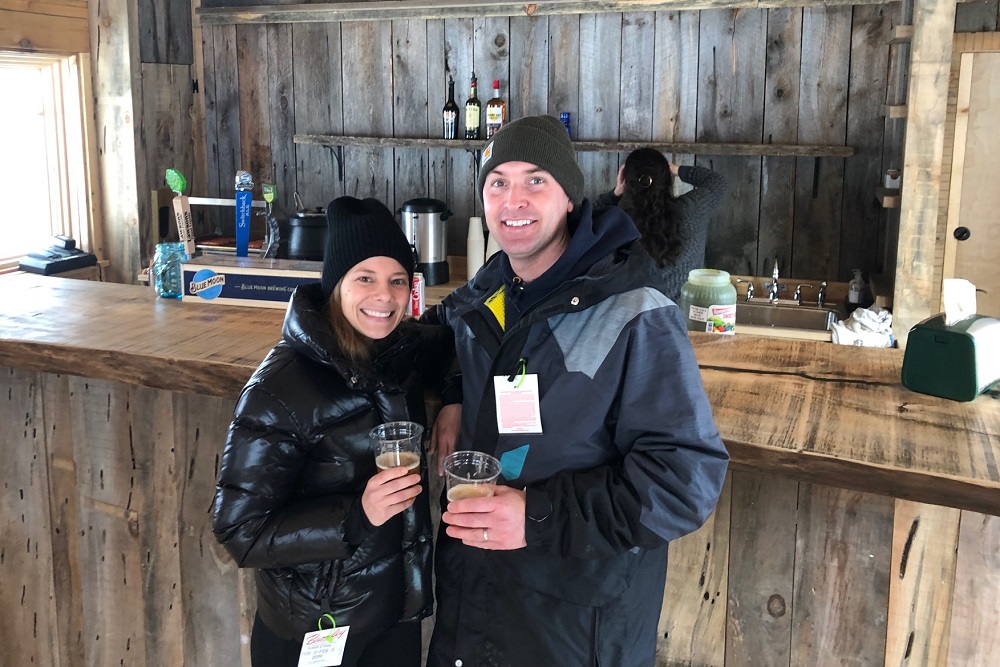 Our Very First Warming Hut Guests
Last month, we opened the doors to the Warming Hut for the first time. On Saturday afternoons through the end of the winter season, all are welcome to gather post-ski and pre-dinner for hot drinks, local craft beer, and fresh snacks. When you stop in, make sure to say hello to Sarah behind the counter, who has been amazing in helping bring our vision for the Warming Hut to life.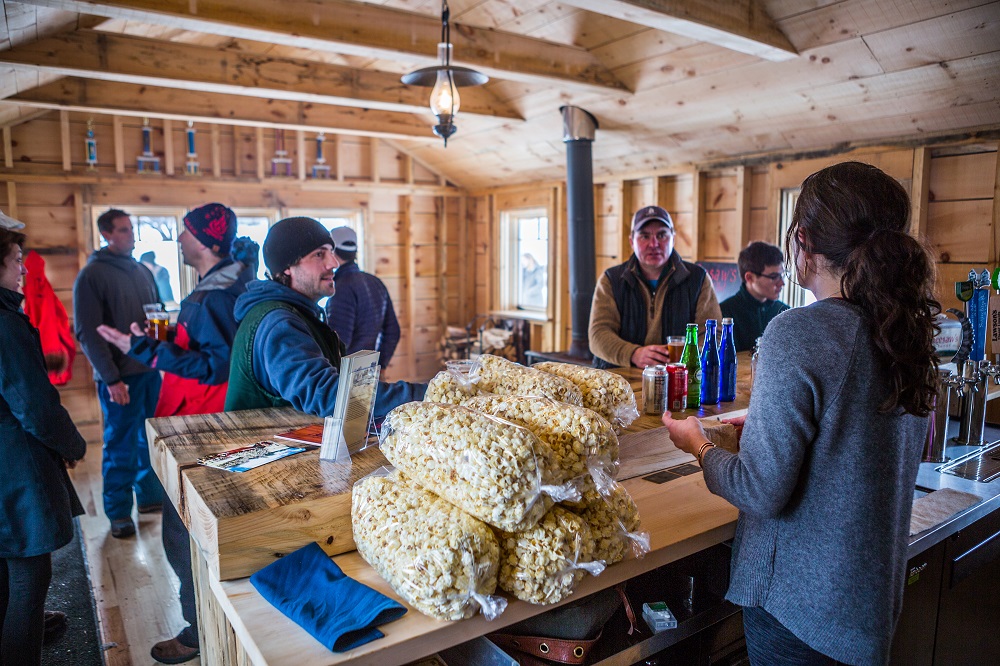 Our very own Trevor came to us with the idea to pop fresh kettle corn at the hut. Trevor is a master popper who picked up making kettle corn as a hobby, but now travels around the area heating up fresh kernels at all sorts of events. (Check him out
on Facebook
at Auggie's Green Mountain Kettle Corn). The back room of the hut is now kettle corn cooking heaven, and you can watch him make it live on Saturdays.
Through the end of ski season, listen for the horn to signal the start of Saturday après ski at the Warming Hut and Seesaw's. We will have the fire lit inside and the outdoor firepit roaring.
All-Comers Welcome.
…And if you're in the area for the next few weeks, make time to stop by a real live and operational sugar shack. Many of them throughout Vermont open their doors to visitors for
Maple Open House Weekend
March 23-24, 2019.